Social Media Success Summit 2011 (SMSS) is right around the corner. I've already started clearing off my desk to make room for my feet so I can kick back and listen to some key players in the social world. (Yes, even those who consult spend time and money to stay in-the-know.)
From May 3-26, more than 20 key players in the business will be sharing their methods, predictions and statistics. I attended the summit last year and walked away armed with tons of new ideas, some merely triggered by case studies totally unrelated to my work.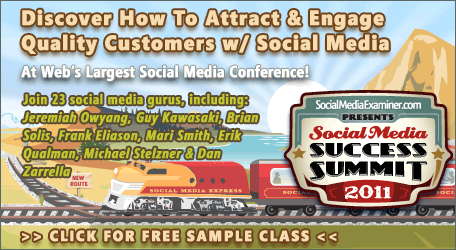 The organizers make it simple. Presentations (which include Q&A) are scheduled throughout the month, which helps ease the burden of information overload. If you miss a session, or just want to see it again, you get access to replays. SMSS is actually the first online "big" event I've attended where I didn't feel pressed for time to get in and out of education panels.
Many of you have been asking me if the summit is worth the cost. Since no travel or accommodation costs are involved – no one is going to judge you if you're sitting in your jammies eating M&Ms (yes, guilty) – there's no worries about connecting flights or lost reservations.
But, seriously, if you want to gain more customers and brand recognition, it makes sense to understand what tools are available, how to use them, and how some companies went about making their mark. The sessions are designed to guide you down a logical path. It's also a great opportunity to hear speakers you might not otherwise have the chance to experience.
Of course, like anything else, if you can walk away with just one, really good idea, it wasn't at all for naught.
I pay for my own attendance to this event. However, I do use an affiliate link in this post.